Orb and Streak of light pictures from Montreal, Canada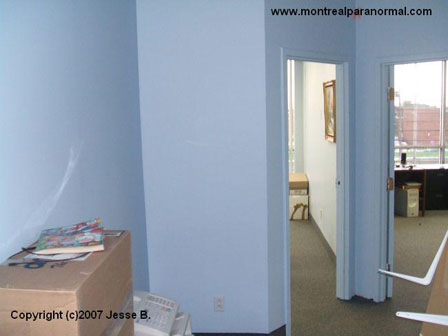 These pictures were sent in by Jesse (Thank you Jesse):
"Where I work there is a back exit to a long hallway that kinda gives me the willies. My back faces it every day, and i seem to get that being watched feeling from time to time or i get a very cold chill. So for kicks and giggles i snapped a few pics, but what i discovered kinda freaked me out. I took these pics with a Fuji Finepix digital camera. I took about 5 shots approximately 2 minutes apart. One picture shows what appears to be the bottom half of an orb and the other is a vapor coming from the wall."
This page can be translated to other languages using Google Translate Bar below
MPI investigations & photographs
Australia
Belgium
Canada
Egypt
France
Germany
Hong Kong
Lebanon
Madagascar
Mauritius Island
Poland
Switzerland
Thailand
United Kingdom
United Arab Emirates(UAE)
United States Of America
Hawaii
Submitted photographs
Canada
France
Lebanon
United Arab Emirates(UAE)
United Kingdom
United States Of America
To submit photographs for this site, email .