Chateau Laurier, Ottawa, Canada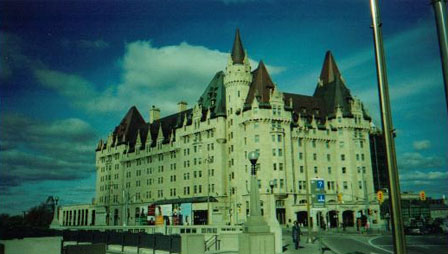 This is The Fairmont Chateau Laurier Hotel located in downtown Ottawa near the
"The building of the hotel began in 1908 and ended in 1912 and was commissioned by Charles Melville Hays. The hotel was scheduled to be opened on April 26 1912 but tragedy hits few days before the opening. Melville was suppose to be the one who opens the hotel for the public but never got the chance to. On the night of April the 14th 1912 The British liner The Titanic hit a iceberg of the coast of Newfoundland and sank taking more then 1500 people with it including Charles Melville Hayes and most of his party members."
"The hotel was eventually opened by Sir Wilfred Laurier on June 12 1912. And it is said that one of the ghosts is Charles Melville Hays and another is the famous photographer Youssef Karsh who lived in the hotel for eighteen years."
"I've talked to one of the room maid there and he told me from his thirty years of working in the hotel he have encountered many strange things that he can not understand. For instance he would arrange furniture the way he usually do he go away to get something then when he gets back the furniture that he arranged have changed position. He thought at first someone in the hotel was playing games with him but then he said it can't be, it can't be done in such a short period of time and this phenomenon kept repeating itself over and over and over. And he still to this day does not know how can the furniture change place by themselves ?"
"This is a shot of the entrance of the chateau, see the orb on the top in the middle right above the statue? There was quiet a lot of energies in the entrance room which compelled me to take pictures. By the way i don't pictures just because i have several cameras on me and many films in my pocket, i only do when i pick up things, feel energies, presences, then i start taking pictures."
Patrick Zakhm