Basel UFO Battle site, Basel, Switzerland.
"In 1561 early in the morning locals woke up to a battle that was being waged up in the sky above them. Witnesses reported seeing strange colored geometric shapes in the sky, some looked like spheres, others had a cigar shape and yet others looked like crosses. The battle lasted for about an hour where some of these shapes crashed on the ground and others took off heading toward the sun. But then it was becoming clear to these witnesses who was winning. Then all of a sudden a huge object in the form of a Speer appeared out of nowhere and that caused every other smaller objects in the vicinity to flee."
"A wood cutter named Hans Glaser was one of these witnesses and managed to carve that battle scene on a piece of wood and this is where that supposedly famous picture you see above come from, or so it is believed. Most people believe that scene suppose to be in Nuremberg, Germany. I have not been to Nuremberg yet but was in Basel and this scene depicted very strangely looks like Basel actually, Switzerland and not Nuremberg. If you compare the pictures i took and the picture above with the colored shapes you'll be surprised by the similarities, it's the same location. The picture with these shapes were drawn though from a farther location to the right from where i was standing, that's why the two towers of the Basel Munster cathedral(on the left)look much closer to each other."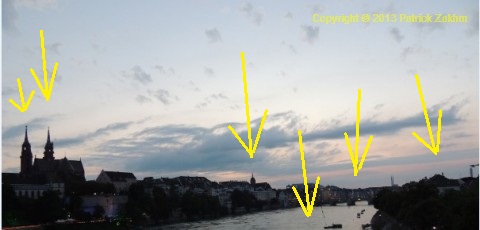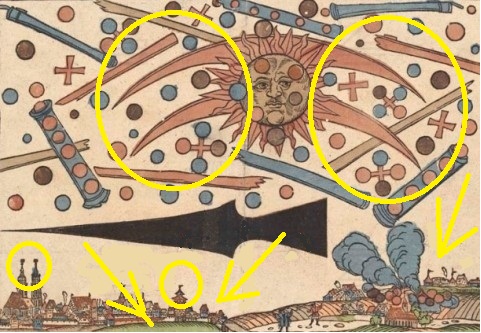 "Take a look above, see the similarities? We have the two towers of Basel Munster(cathedral)on the left, the body of water below(the Rhine river) the pointed tower you see in the horizon and this is the Scriptorium am Rhysprung(which is a calligraphy workshop), the Mittlere Brucke bridge(which is barely visible) and we have the curved land on the right."
"Last year i became very interested by a story someone told me regarding an incidence that occurred hundreds of years ago above Nuremberg where a UFO battle supposedly occurred, then by accident i stumbled upon some pictures from Basel which resembles very much the site that was suppose to be in Nuremberg. Since i had a trip to Germany i decided on my way back to visit Basel to check out this site. I only had few hours to do so because i had to catch my train back to Paris. I got off Basel Railway station(Basel Bahnhof SBB)and walked to this site which was about 30 minutes away. As i arrived there on a bridge called Wettsteinbrucke bridge and looked i was surprised by the similarities with the the UFO battle picture. With Basel Munster (cathedral) on my left, Rhine river below running under another bridge(facing me)the Mittlere Brucke(bridge), i started snapping pictures then decided to see if there was any kind of radiations or magnetic fields above the norm since i was carrying some ghost investigation equipment on me. I then headed down below near the river on the right. So i thought since i have some equipment in my backpack why not take a look and see if i get some readings. I had on me my handheld radiation monitor(can detect Alpha, Beta, Gamma as well as X-rays which are man made). I also had my EMF and a magnetic light stick. The stick was a new tool and i thought it would be good to try it here since it was getting dark and reading the EMF meter won't be easy. Where as with the stick it would be much easier to pick up and see any anomalies in the magnetic field since it lights up near a magnetic field. This stick is very sensitive to magnetic fields and it will light up by any sudden increase in the magnetic field around. In one of the picture i put a small magnet (which come with it) to show how it lights up and stays on as long as there's a magnetic field."
"I walked around on the path that is on the right near the river and then headed through the streets and got some readings which looked normal to me, there was normal background radiations. I was now in the area depicted in the picture where supposedly something crashed. The streets in there are packed with building so not much area you can go to to do some tests. I wounder during the building of these houses, did somebody find any kind of a strange metals? But even if they did i doubt they'll come out and call the police on that though. So the normal background radiation in Basel was around 16 CPM(count per minute in milliroetgen/hour). The monitor was tested earlier with a radioactive element(americium-241)found in smoke alarms usually and it was working great, the monitor went crazy with that. We shouldn't forget that there are normal background radiations all around us. A bit of this come as you know usually from nature and from space. We are bombarded all the time by radiations from outer space but the different layers of our atmosphere filter almost all of them and only a tiny amount reach us. The amount of radiation that reach us depends on our location and elevation. The stick didn't light up through out this whole time, i was only getting normal readings from the radiation monitor."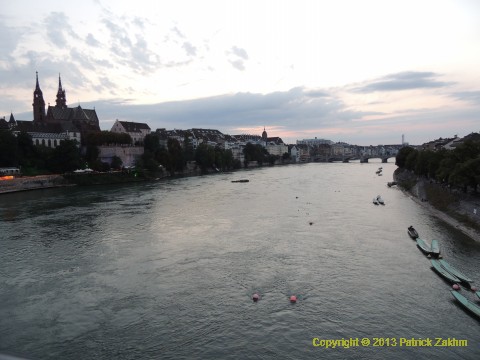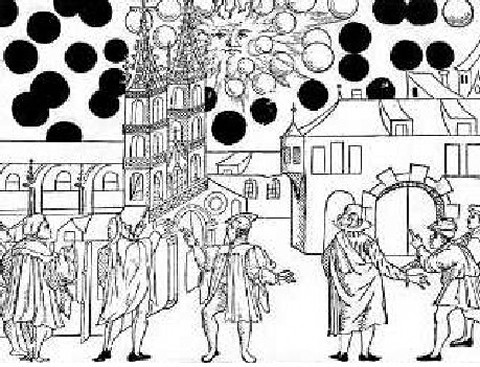 "Then 5 years later in 1566 there was another battle above in the skies of Basel(or could have been in Nuremberg?) and here it's depicted in the black and white picture you see above. Again we see the sun and spheres like shapes and two towers, could it still be in Basel same spot?. And that makes you ask some questions like what's with the sun?Was the sun a mother spaceship? Was it because it was extremely brightly lit like the sun and in those days they didn't have anything so bright to resemble things to except the sun and so the sun was used to describe the intense light this huge ship was giving of? And what about the claws like things coming out behind the sun(top woodcut colored picture)two on each side, what are these?? I find all this very intriguing, whether this whole thing is true or not i can't say but it looks quiet possible. The next time I'm in Zurich I'll do some more research at Zurich Central Library and see what i can find out and maybe see this popular woodcarving depicting what is believed today to be a UFO battle."
Patrick Zakhm