From Heidi L., Montreal, Canada. (Thank you Heidi:) )
Heidi is a very interesting person. She usually get impulses to snap pictures just like that. And when she does she catches on film some quiet chocking things like you can see in pic 1 and pic 2.
The shot in picture 1 was taken in a cemetery in October 2006 in Stafford, U.S.A. She seemed to have caught a lot of ectoplasme. I wounder what we would have taken more pictures following that shot?
Then this year in her home in August 2007 the TV was on she was sitting near it but not really watching it then all of a sudden she got an impulse to pull her camera and take a pic of the TV from where she was just like that. Check what she got in pic 2. It looks like a face, very weird looking staring face which seems to touch some how the screen from inside from behind the glass.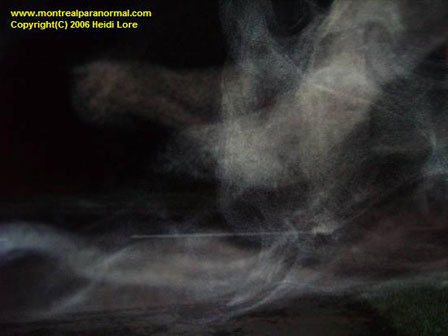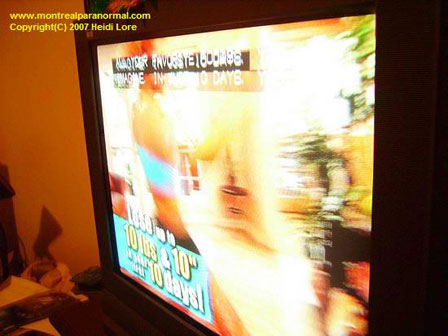 This page can be translated to other languages using Google Translate Bar below
MPI investigations & photographs
Australia
Belgium
Canada
Egypt
France
Germany
Hong Kong
Lebanon
Madagascar
Mauritius Island
Poland
Switzerland
Thailand
United Kingdom
United Arab Emirates(UAE)
United States Of America
Hawaii
Submitted photographs
Canada
France
Lebanon
United Arab Emirates(UAE)
United Kingdom
United States Of America
To submit photographs for this site, email .