Investigation of a Cathedral in Batroun, Lebanon.
" Third ghost investigation case in Batroun, Lebanon."
" Few weeks later i visited JD again stayed a bit then went to explore the Batroun area with a friend. Not far from where we were we came across a church then i told my friend that it's haunted before we got in. I could feel the vibes from outside. It was a male ghost. We got inside walked around a bit then i saw in spirit a male pretty short in stature in his i would say 45-50 years old. Had a short cut hair. Most of his hair was white. And he was wearing a light gray one piece garment like monks wear and around his waist there's a belt made up of a rough canvas rope. He did not look at me. He was busy it seems and he was standing sideways. I kept seeing him for a bit then i stopped. I took some pictures then we left. I described to my friend what i saw but he didn't know who it was. We then later on mentioned that to JD and JD said that it's Saint Estephan. We tried finding pictures of this saint just to see what he looked like but got nothing. So we don't know who that was."
" The construction of this Cathedral ended in 1900. There was a small church before but since the town was getting bigger and could no longer accommodate the populace they decided to build this Cathedral instead."
Patrick Zakhm
" Below in this burst mode shots 3 in about 1-1.5 second an orb's trajectory was caught. From in front of me moving to the right then heading straight up above the altar. Copy /paste these three shots to your pc and see how it's moving. Follow the yellow arrow. "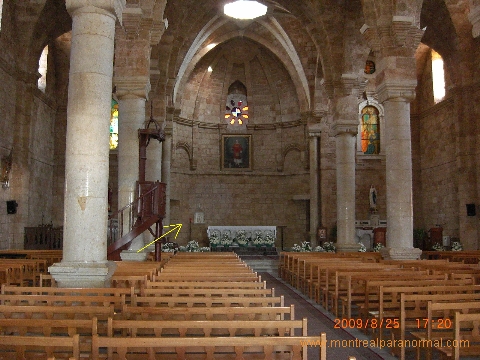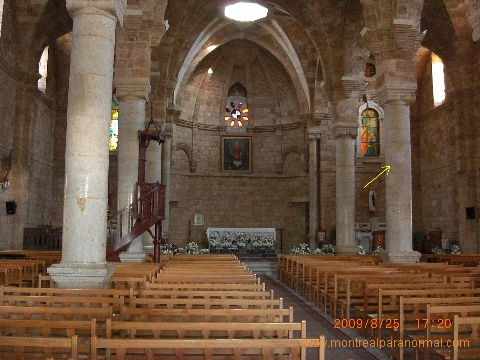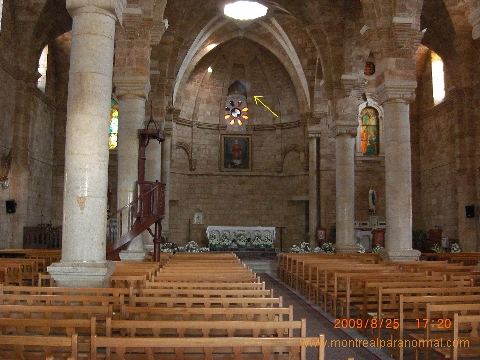 " Right below is a zoom shot of that orb".
" This is the Cathedrale from outside. "