Haunted Chateau Ramezy museum, Old Montreal, Montreal, Canada
This is a visit made by Patrick Zakhm to the museum a while ago that has never been uploaded to the site until now. He was attracted to the ghost vibes this site was given off. He got inside then started going through different rooms while taking pictures. The shots below is of the rooms with intense ghost vibes that he came across. But in one particular room he had a strange experience. He as usual takes a lot of pictures in burst mode with flash. And this time as he was doing that he saw spiritually the ghost of a well dressed lady standing up all of a sudden from in front of him then walking away diagonally from him around ten feet away then sitting down. He did not see her full face because her back was toward him. He only got a glimpse of her face/profile at then end when she was just about to sit down, she turned a bit then sat down on what ever kind of chair was in her time. She seemed to have been disturbed by the many flashes given off by Patrick's camera and decided to move away. There was nothing that flashes like that in this lady's time, it must have looked strange or even scary for her which could explain her sudden reaction/moving away from him. Patrick continued exploring the rooms then finished his visit to the museum.
Before he exited the museum Patrick decided to ask the workers if they ever had a ghost encounter here because he explained to them what he does and that he felt the museum is very haunted. He received a smile from one and surprise look from another then they told him that many visitors reported smelling sulfur in the basement. Another visitor reported seeing a ghost of a woman who seemed to be pissed because she told them"Leave me alone!". Many other unexplained experiences occurred connected with the locks in the museum, being opened when they suppose to be locked.
Below is the direction where the ghost lady headed when she stood up and walked away from Patrick. Big circle is where she stood up and the small circle is where she headed then sat down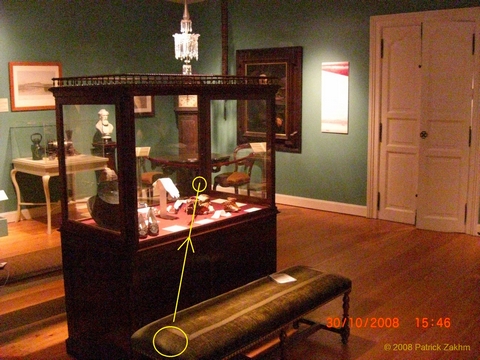 Below are some of the rooms that have the most intense ghost vibes in the museum which means this is where the ghosts usually appear